View Plans & Pricing
Flowlu Overview
Need a versatile business management system? Well, perhaps Flowlu is for you. With its CRM, team chat, issue tracker, knowledge base, financial invoicing & task organisation, the entire package of solutions is available at your fingertips. Having a knowledge base, cloud-based platform, team collaboration & agile project management software enables effective operational workflow. Create mind maps to share & exchange innovative ideas with the rest of your team.
This is all promising, however, Flowlu isn't always seamless with its erratic functionality. For instance, the interface disappears upon accessing a shared resource within the program. As if this wasn't concerning enough, there are still some project management features that are omitted. These include items such as reminders that aren't directly visible but still under development. Some users miss the lack of VoIP facilities.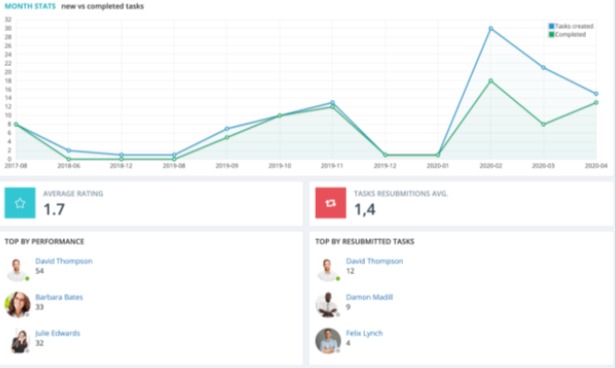 In summary, unless you're specifically seeking a large-scaled & multi-use package, Flowlu appears an ideal solution for average-sized setups. It offers decent functional solutions for all your business needs. Nevertheless, it cannot be ignored that some of the operational capabilities are questionable & require improvement. This would favor a more smooth & clean user experience. Hence, it may be worthwhile searching for other similar software & trying it out prior to committing to anything.
I am a digital marketer and SEO content writer at Cloudfindr.
Flowlu Features
Access Controls/Permissions
API
Activity tracking
Agile Methodologies
Alerts/Notifications
Automatic Backup
Billing & invoicing
Brainstorming
Budget Management
CRM
Calendar management
Calendar Sync
Calendar/Reminder System
Cataloging/Categorization
Chat/Messaging
Collaboration tools
Commenting/Notes
Communication Management
Contact database
Contact Management
Content management
Cost-to-Completion Tracking
Create Subtasks
Customizable Fields
Customizable invoices
Customizable Templates
Decision Support
Discussions / Forums
Document Management
Document Storage
Email Invitations & Reminders
Email Management
Email-to-Task Conversion
Estimating
File sharing
Financial Analysis
Financial Management
Full Text Search
Gantt/Timeline View
Hourly billing
Import Tasks
Interaction Tracking
Invoice Creation
Invoice history
Invoice Management
Invoice Processing
Issue Management
Issue Tracking
Kanban Board
Knowledge Base Management
Lead generation
Lead management
Lead Qualification
Live chat
Marketing automation
Milestone Tracking
Mind Maps
Mobile Access
Manage multiple projects all from a single CRM
Multiple user accounts
Online Invoicing
Online Payments
Opportunity Management
Parent Task
Payment processing
Percent-Complete Tracking
Portfolio Management
Prioritization
Project Accounting
Project Management
Project Estimating
Project Planning
Project Planning/Scheduling
Project Templates
Project Time Tracking
Project Tracking
Project Workflow
Projections
Quotes/Estimates
Records Management
Recurring Tasks
Recurring/Subscription Billing
Reminders
Reporting/Analytics
Reporting/Project Tracking
Resource Management
Revenue Management
SSL Security
Sales Pipeline Management
Sales Reports
Segmentation
Self Service Portal
Spreadsheet View
Status Tracking
Task Board View
Task Editing/Updating
Task management
Task Planning
Task Progress Tracking
Task Scheduling
Task Tagging
Tax Calculation
Testing/QA Management
Text Editing
Time & Expense Tracking
Time tracking
To-Do List
Traditional Methodologies
Wiki
Visual Workflow Management
Flowlu Plans & Pricing in 2022
Available on: Free, Free Trial, Subscription
Starting Price:

$29.00/month



Pricing Module:


Flowlu has four pricing options






Free


Team – $29 per month (annual billing) or $39 per month (monthly billing)


Business – $59 per month (annual billing) or $74 per month (monthly billing)


Professional – $119 per month (annual billing) or $149 per month (monthly billing)






The benefit of the monthly plans is that you can cancel at any time, however, the price is higher (per month) compared with annual plans. With annual plans, you have the benefit of cheaper rates over a 12-month period. So, if you know you want Flowlu and will use it a lot, then consider an annual plan to save more money.



Trial Days:

14
Alternatives of Flowlu
Compare with Top Alternatives
Flowlu
RingCentral
Paymo
Pricing

Starting from $29.00/month

Free:

Trail Days:

Free:

Free Trial:

One Time Licensing:

Subscription:

Starting from $29.99/month

Free:

Trail Days:

Free:

Free Trial:

One Time Licensing:

Subscription:

Starting from $11.95/month

Free:

Trail Days:

Free:

Free Trial:

One Time Licensing:

Subscription:

User Reviews

No Review Yet!

No Review Yet!

No Review Yet!

Key Feature
API
Access Controls/Permissions
Activity tracking
Agile Methodologies
Alerts/Notifications
Archiving & retention
Audio / Video Conferencing
Auto-Dialer
Automatic Backup
Billing & invoicing
Compare with all features