View Plans & Pricing
ONLYOFFICE Overview
Onlyoffice offers a unique concept to users who wish to possess full control over their written correspondence within one secure cloud-based platform. Be it the basic word processing package, the email client, editing tools, or other pertinent features, this houses everything, literally under one roof. Being a newbie in the industry, onlyoffice has a lot to offer, so let's take a look at some of their offerings: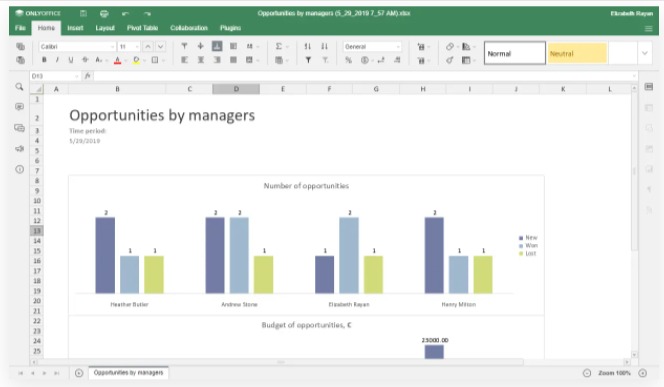 • Run your independent virtual office in a private server, not needing to concern yourself with security, sharing, or privacy protocol any further
• Choose from an array of distinct facilities, including document management, CRM & projects (to name but a few)
• A huge variety of installation options to suit your needs, combining customisability & security, all in one
• Integration options with other apps, as well as developer modules for those who are tech-savvy. They also offer partnerships for those who are interested!
Considering that onlyoffice is still in its infancy stages (as aforesaid), much user testing still needs to be undertaken. Nevertheless, let's see what others have encountered with their primary experience thus far:
• The application is somewhat slow to load. In this modern era when time is everything, it appears a little counterintuitive that a recently developed software dealing with basic text protocol should suffer from such lags
• Currently, there's no option to save directly to other cloud-based platforms, such as Dropbox. One must save to onlyoffice's direct server first, prior to then manually transferring to their opted choice.
Apart from these concerns, it seems that onlyoffice is still developing (and rightly so). It does offer a balanced mix of features, usability, data integrity, as well as versatility in its application.
I am a digital marketer and SEO content writer at Cloudfindr.
ONLYOFFICE Features
Access Controls/Permissions
Data Import/Export
Access Controls/Permissions
Address Book
Archiving & retention
Calendar management
Calendar Sync
Calendar/Reminder System
Charting
Chat/Messaging
Collaboration tools
Commenting/Notes
Contact Management
Customizable Templates
Data Visualization
Deadline Management
Document Generation
Document Management
Document Storage
Document Templates
Electronic Signature
Email Invitations & Reminders
Email Management
Event Management
File Conversion
File Management
File Recovery
File sharing
File Transfer
Inbox Management
Invoice Management
Live chat
Mail merge
Monitoring
Multi-Language
Multimedia Support
Multiple format support
Multiple projects
Optical Character Recognition
Presentation Tools
Project Management
Project Templates
Project Time Tracking
Project Tracking
Real-time Updates
Remote Access/Control
SSL Security
Scheduling
Secure Data Storage
Spell Check
Tagging
Task management
Task Planning
Task Progress Tracking
Task Scheduling
Team Chat
Text Editing
Text to Speech
Two-Factor Authentication
Workflow Management
ONLYOFFICE Plans & Pricing in 2022
Available on: Free Trial, Subscription
Starting Price:

$10.00/month



Pricing Module:
Take your business to the cloud at the best price. 30-day free trial. No credit card required.

You can choose a 1-month, 1-year, or 3-year subscription.

The subscription plan for ONLYOFFICE is based on the amount of active portal users, e.g. $40 per month (if monthly commitment) for 6-10 active users, which means $5 per user/month on average. If you pay for a year or for 3 years, the price per user/month will be even lower - $3 and $2 on average respectively.

Note that subscription plans for 1-2 and 3-5 active users are available for annual subscribers only.

Nonprofit organizations and schools can use the ONLYOFFICE cloud service for free, while other educational institutions can get a discounted rate.


Trial Days:

30
Alternatives of ONLYOFFICE
Compare with Top Alternatives
ONLYOFFICE
Spyrix Employee Monitoring
Zoom Meetings
Pricing

Starting from $10.00/month

Free:

Trail Days:

Free:

Free Trial:

One Time Licensing:

Subscription:

Starting from $149.00 /month

Free:

Trail Days:

Free:

Free Trial:

One Time Licensing:

Subscription:

Starting from $14.99/month

Free:

Trail Days:

Free:

Free Trial:

One Time Licensing:

Subscription:

User Reviews

No Review Yet!

No Review Yet!

Likelihood to Recommend

10

Key Feature
Access Controls/Permissions
Activity Dashboard
Address Book
Alerts/Notifications
Annotation and Markup Tools
Archiving & retention
Attendance Management
Attendee management
Audience Engagement
Audio Conferencing
Compare with all features