View Plans & Pricing
Carts Guru Overview
Carts.guru brings you advanced marketing automation solutions, such as multichannel & e-commerce engagement tools. With specific & robust workflows, it's no wonder that they're pretty successful at doing so. Let's see their features: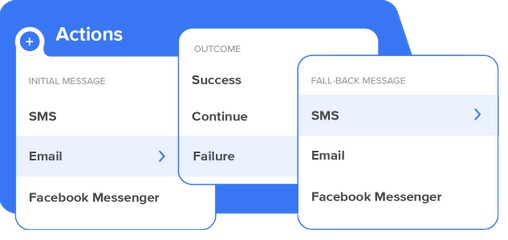 • Combine social media cum messaging apps to gauge the likelihood of customer visits. Then target them just at the right moment!
• Always seize sales opportunities by gently yet effectively pursuing leads for conversion. Create awareness & follow up with after-sales support to ensure retention. Job done!
• Implement informed decisions based on data intelligence with analytical & tracking reports. Grow your business with insights into site & order activity.
• Boost your customers' worth sustainably via consistent & personalised campaigns, according to their custom preferences
Boost your CTRs via innovative notifications & be reactive to customer trends. Smart segmentation allows you to reestablish your inactive contacts by revitalising their interest in your site. VIP arenas & widget linked growth also add to the complementary methods to drive your business. Post-purchase campaigns also strengthen your relationships with customers, fostering trust. Ecommerce dashboard metrics educate you about all customer buying behavior & what gaps exist in your protocol for improvement. Multilingual templates & product recommendations attract customers from various regions.
There are however undeniable disadvantages of using Carts.guru, as functionality appears to have taken a back seat. For instance, the contacts cannot be filtered or arranged in specific listing order. This wastes time & creates unnecessary hassles in obtaining the pertinent information. Furthermore, the email template editor restricts the level of modifications that you can make. Occasionally, it can be slow to upload pages too. Overall then, its features are impressive on paper. Unfortunately, however, some basic things appear to have been overlooked whilst designing it though.
I am a digital marketer and SEO content writer at Cloudfindr.
Carts Guru Features
API
Abandoned Cart Saver
Conversion Rate Optimization
Customizable Branding
Discount Management
Real Time Notifications
Website Analytics
Carts Guru Plans & Pricing in 2023
Available on: Free, Free Trial, Subscription
Starting Price:

$99/month



Pricing Module:
0


Trial Days:

30 days
Alternatives of Carts Guru
Compare with Top Alternatives
Carts Guru
ActiveCampaign
AdScale
Pricing

Starting from $99/month

Free:

Trail Days:

Free:

Free Trial:

One Time Licensing:

Subscription:

Starting from $9.00/month

Free:

Trail Days:

Free:

Free Trial:

One Time Licensing:

Subscription:

Starting from $39.00/month

Free:

Trail Days:

Free:

Free Trial:

One Time Licensing:

Subscription:

User Reviews

No Review Yet!

No Review Yet!

No Review Yet!

Key Feature
AB Testing
API
Abandoned Cart Saver
Account Alerts
Activity Dashboard
Activity tracking
Alerts/Notifications
Analytics/ROI Tracking
Audience Targeting
Auto-Responders
Compare with all features