View Plans & Pricing
OneSignal Overview
Rated as the no.1 push service for both mobile devices & web services, Onesignal offers countless solutions to convey your message to customers. Being the market leader in these plus customer engagements, email & in-app messaging. Convert leads into subscribers. Let's review their features:
• Mobile push: be the first early bird to notify users, deploying their main app traffic channel system
• Web push: remain visible to your customers even when they leave your site with multi-browser support
• In-app: send enlightening messages with designer banners, pop-ups as well as interstitials, easily applied to be code agnostic
• Email: Omni device capabilities present these well with the composer. Customise using gratis templates to complement your brand
• Quick setup with live reporting to monitor delivery & conversion rate metrics
• Vast scalability to meet your evolving needs
• A/B testing: tally message performance & automate opting for the best
• Segmentation: personalise messages & deliver them to fitting audiences
• Trigger notifications, based on user activity & trends
• Machine learning to promote business intelligence with predictive analytics. Now you can send messages at the most suitable time
• Open source SDKs & other elements are accessible via API
Boost open rates, make informed decisions using statistical significance parameters & target filtered conversations. Categorise customers into subscribed, (in) active & engaged users. Drip campaigns, opt-ins to maximise your reach & send specific emails to increase CTRs. User messages inform, whilst transactional notifications confirm, conversion drivers market & promo cum updates encourage sales. New blog posts to notify newly published material, abandoned cart reminders, product announcements & mentions with followers augment the social element of marketing. Ecommerce offers, referrals & ratings drive traffic, whilst permission prompts & surveys politely acquire info from customers. Pre-prompted permissions allow for demographic data to be collated by firstly explaining the purpose of doing so to the user. Time-delayed pushes are useful for various time zones.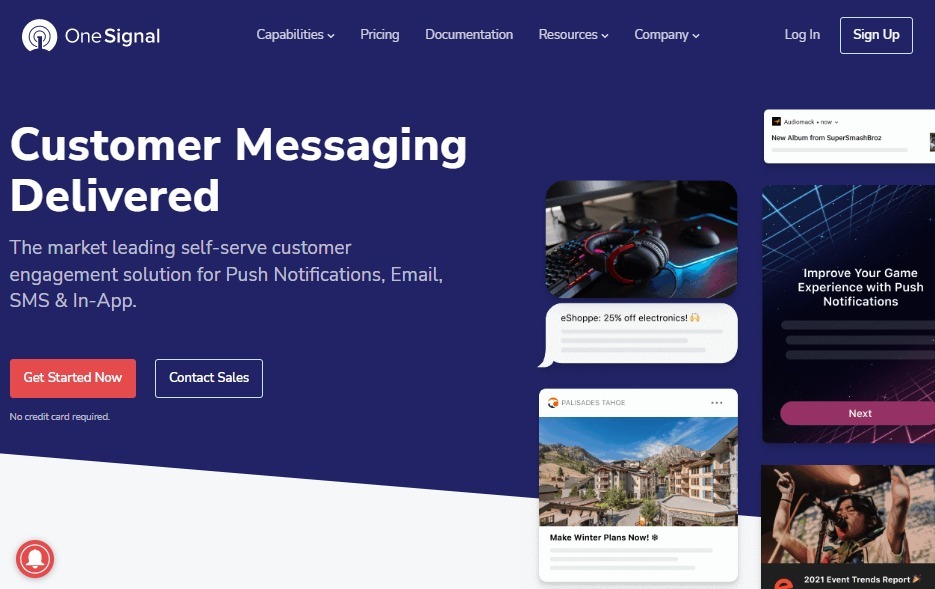 I think the main issue is that if one exceeds 30K users, the free plan suddenly evolves into an increasingly hefty sum to pay. It doesn't appear very competitive, given that there are other cheaper options out there. Then again, with an average rating of just over 90%, this is a versatile push notification package that means business.
I am a digital marketer and SEO content writer at Cloudfindr.
OneSignal Features
A/B Testing
Analytics
Geo Targeting
Contextual Targeting
Device Targeting
Expiry Notifications
Mobile Notifications
Notification Scheduling
Alerts/Notifications
Customer segmentation
Engagement Tracking
Labeling
Mobile alerts
Performance Metrics
Push Notifications
Real time analytics
Real Time Notifications
Real time reporting
Reporting/Analytics
Tagging
Third Party Integrations
OneSignal Plans & Pricing in 2023
Available on: Free, Free Trial, Subscription
Starting Price:

$9.00/month



Pricing Module:
OneSignal offers a free plan with limited features after which paid plans start at $9/month and scale based on the number of subscribers.

Free: free plan includes 6 segments and 10 data tags

Growth: from $9/month - includes 10 segments and 20 data tags

Professional: from $99/month - includes 20 segments and 100 data tags

Enterprise: Custom plan


Trial Days:

14
Alternatives of OneSignal
OneSignal Reviews
Likelihood to Recommend
4/10
---
Ava

Rating breakdown
Likelihood to Recommend
3/10
Not Impressed With OneSignal
I recently tried OneSignal and was left feeling very underwhelmed. The setup process was complicated and the user interface was confusing. The features were limited and the customer service was slow to respond. I wouldn't recommend OneSignal to anyone.
Pro
None
Cons
Complicated setup, Confusing UI, Limited features, Poor customer service


Notice: Undefined variable: rc in /opt/bitnami/apps/wordpress/htdocs/wp-content/themes/cldfndr/content-single-app.php on line 939

Notice: Undefined variable: reviewschema in /opt/bitnami/apps/wordpress/htdocs/wp-content/themes/cldfndr/content-single-app.php on line 968

---
Brylee

Rating breakdown
Likelihood to Recommend
4/10
OneSignal: Impressive App
OneSignal is great! Easy setup and great features.
Pro
Easy setup and great features
Cons
None


Notice: Undefined variable: rc in /opt/bitnami/apps/wordpress/htdocs/wp-content/themes/cldfndr/content-single-app.php on line 939

Compare with Top Alternatives
OneSignal
WebEngage
SALESmanago
Pricing

Starting from $9.00/month

Free:

Trail Days:

Free:

Free Trial:

One Time Licensing:

Subscription:

Starting from Custom

Free:

Trail Days:

Free:

Free Trial:

One Time Licensing:

Subscription:

Starting from Custom plan

Free:

Trail Days:

Free:

Free Trial:

One Time Licensing:

Subscription:

User Reviews

Likelihood to Recommend

4

Likelihood to Recommend

1

No Review Yet!

Key Feature
360 Degree Feedback
A/B Testing
Access Controls/Permissions
Action Item Tracking
Action Management
Activity Dashboard
Activity management
Activity tracking
Administrative Reporting
Advertising Management
Compare with all features