View Plans & Pricing
Zoho Meeting Overview
Zoho's meeting application is their relatively new installment to refresh the concept of hosting online meetups. Offering a fortnightly free trial, it's certainly worth considering. In fact, Zoho has proactively compared themselves to GoToWebinar to demonstrate the advantages of using their package, rather than the latter. So let's dig in & take a look…
Zoho has a clear mission & their framework substantiates this. Their new infrastructure is harmonised with many other apps to deliver a complete product. They have succinctly categorised each element of the webinar process to ensure fulfillment at each stage. These are:
• Organise pertinent material: prepare using fidelity software to boost & moderate attendee strength, produce customised as well as embeddable registration forms & email notifications
• Present: use video & screen sharing over VoIP with phone audio – without the need to download any software. Secured with industry level encryption
• Engage your audience: interactive tools to evoke & retain interest, such as audience speaking, conducting polls, broadcasting messages & holding Q/A sessions
• Analyse & follow-up: export reports for all the aforementioned & email accordingly
These powerful tools transform what appears to be a routine meeting app into something quite special. Nevertheless, let's see Zoho's shortcoming regarding their meeting portfolio:
• The maximum number of participants even on the dearest plans is set at 250, whereas other competitors offer much more capacity, to the tune of hundreds, if not thousands
• Customer support lacks any human touch or interaction: users are left to peruse the online resources at their own will to hopefully solve any issues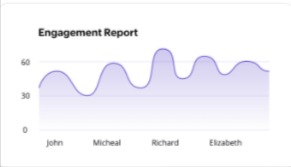 In all, Zoho meeting wins by establishing & pioneering a no download protocol to set up your meetings, Furthermore, it hosts a myriad of intuitive features to keep audiences engaged. The only 2 main issues are the maximum participant limitation & absence of any real tech support.
Zoho Meeting Features
Android app
Application Sharing
Built-in chat
Calendar integrations
Cloud storage for recording
Corporate branding with logo and name
Cross-platform support
Desktop plugin
Embed registration widget
Embedded meeting widget
Export custom webinar reports
Firewall support and security
Google Chrome extension
Instant chat collaboration
International dial-ins
Multiple email reminders
No downloads
RSVP scheduling
Recording and replay
Run polls during webinar
Multiple screen sharing
Support for multiple timezones
Toll-free add-ons
VoIP support
Webcam sharing
Webinar email customization
Webinar registration
Webinar registration moderation
iOS app
Zoho Meeting Plans & Pricing in 2023
Available on: Free, Free Trial, Subscription
Starting Price:

$3/month



Pricing Module:


Starting from: $3.00/month Pricing model: Free, Subscription Free Trial: Available (No Credit Card required)




Free version: 5 participants with limited features.

Free Trial (14-days): Fully functional with all features of professional edition. Subscription is based on number of participants/attendees per session and number hosts/organizers. -> Online Meeting plan starts at $3/month/host for 10 participants: Meeting-10 Participants - $3/month/host Meeting-25 Participants - $6/month/host Meeting-50 Participants - $9/month/host Meeting-100 Participants - $12/month/host -> Webinar plan starts at $19/month/organizer for 25 attendees" Webinar-25 Attendees - $19/month/organizer Webinar-50 Attendees - $29/month/organizer Webinar-100 Attendees - $39/month/organizer Webinar-250 Attendees - $79/month/organizer Webinar-500Attendees - $125/month/organizer Webinar-1000Attendees - $200/month/organizer



Trial Days:

30 Days
Alternatives of Zoho Meeting
Zoho Meeting Reviews
Likelihood to Recommend
5/10
---
Karan Shah
2022-05-06 12:36:35
Rating breakdown
Likelihood to Recommend
10/10
One of the safe and secure online video conferencing platform
Overall Zoho Meeting interface is so easy and flexible to use.
Pro
If you\'re looking for a new video conferencing platform, Zoho Meeting is a great option. Zoho meetings is a very user-friendly tool. It is a browser-based tool, so users do not need to download applications to attend a meeting.
Cons
The main drawback of the Zoho Meeting is limited number of attendees on webinar
---

Iris Watson yen

Rating breakdown
Likelihood to Recommend
2/10
Disappointing Zoho Meeting
Poor audio quality, slow loading.
Pro
Easy to use interface.
Cons
Slow and unreliable.
---
Lily

Rating breakdown
Likelihood to Recommend
4/10
Excellent Online Meeting Tool
Zoho Meeting is great!
Pro
User-friendly interface, good audio and video quality
Cons
No whiteboarding feature
---
Miles

Rating breakdown
Likelihood to Recommend
5/10
Excellent Online Meeting Tool
I recently discovered Zoho Meeting and it has been a great asset in my work. It is a reliable and user-friendly online meeting tool that allows me to connect with my colleagues and clients from anywhere. I love how easy it is to set up and schedule meetings. It also allows for screen sharing, recording, and other features which makes it an ideal tool for remote work. Highly recommended!
Pro
Easy to set up, reliable and user-friendly, screen sharing and recording features
Cons
None so far
---
Trevor

Rating breakdown
Likelihood to Recommend
3/10
Not Satisfied with Zoho Meeting
I recently tried Zoho Meeting and was not satisfied with the experience. The audio quality was poor and I had difficulty in joining the meeting. The user interface is not very user friendly and the features are limited. The customer service was unhelpful and unresponsive. Overall, I would not recommend this product.
Pro
None
Cons
Poor audio quality, limited features, unhelpful customer service
---
Jaden

Rating breakdown
Likelihood to Recommend
5/10
Excellent Video Conferencing Solution
Zoho Meeting is an excellent video conferencing solution for businesses. It provides a secure and reliable platform for virtual meetings and conferences. The user interface is intuitive and user-friendly. It also has features like screen sharing and recording, making it a great tool for remote teams. Pros: Secure, reliable, intuitive UI. Cons: None. Name: Jaden, Rating: 5/5.
Pro
Secure, reliable, intuitive UI
Cons
None
---
Pamela

Rating breakdown
Likelihood to Recommend
5/10
Impressive Video Conferencing
Zoho Meeting is great for video conferencing. It has an intuitive interface and excellent audio quality. Highly recommended!
Pro
Intuitive interface, Excellent audio quality
Cons
None
Compare with Top Alternatives
Zoho Meeting
GoToWebinar
JetWebinar
Pricing

Starting from $3/month

Free:

Trail Days:

Free:

Free Trial:

One Time Licensing:

Subscription:

Starting from $59.00/month

Free:

Trail Days:

Free:

Free Trial:

One Time Licensing:

Subscription:

Starting from $79/month

Free:

Trail Days:

Free:

Free Trial:

One Time Licensing:

Subscription:

User Reviews

Likelihood to Recommend

5

Likelihood to Recommend

3

Likelihood to Recommend

4

Key Feature
Android app
Application Sharing
Attendee Management
Automated Webinar
Automated email templates
Automated reminder emails
Built-in chat
Calendar integrations
Cloud storage for recording
Corporate branding with logo and name
Compare with all features