View Plans & Pricing
Tidio Overview
Tidio – your free live chat service, reinforced with bots. If you're searching for a way to turbo-boost your online engagement plan, then this may just be for you.
Tidio offers a spectrum of uniquely designed features to maximise the productivity of visits to your site. Whether it's email, chat, or messages, you can now respond to customer queries quickly as well as effectively. Needless to say, with the deployment of AI, the service is 24/7. Furthermore, the widgets allow learning of customer reactions & behavior. This allows predictive prompting to help conversations along the way.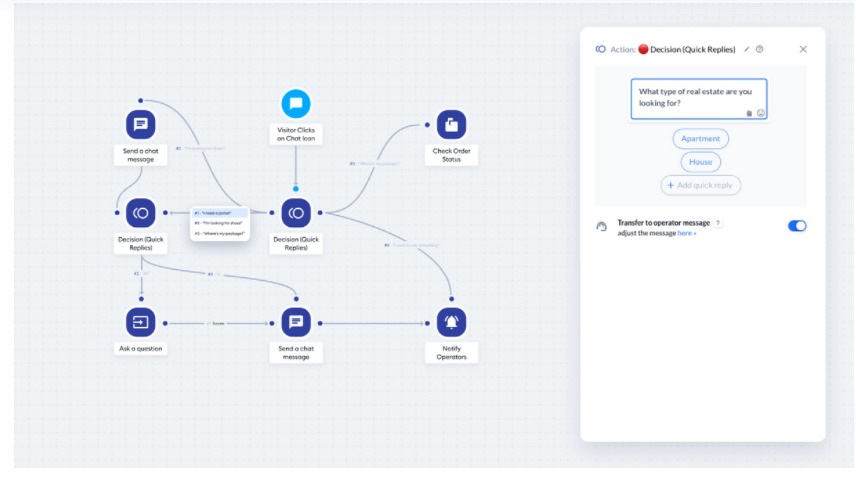 Sounds good so far…well, it is. The only drawback that seems to stick out is the price structure. It's discretely categorised into three domains: email marketing, communicator & chatbots. Even though a free trial is available, it somewhat vaguely quotes the prices 'starting from…' $ 10 – 18. What's worse is that for professional packages, it doesn't quote any price whatsoever. Apparently, this can only be sourced by contacting them & is supposed to be customisable (which is a good thing – probably).
With this anticlimax, you may wish to reconsider how much you're willing to spend on your web marketing & service. After all, it appears that you'd need an open-ended budget, which is unfeasible for many, if not the vast majority of consumers.
I am a digital marketer and SEO content writer at Cloudfindr.
Tidio Features
Alerts / Escalation
Alerts/Notifications
Auto-Responders
CRM
Canned Responses
Chat/Messaging
Chatbot
Complaint Monitoring
Customer Database
Customizable Branding
Email Management
Event triggered actions
Feedback Management
File sharing
Geotargeting
Help Desk Management
Interaction Tracking
Knowledge Base Management
Live chat
Multi-channel communication
Offline Form
Proactive Chat
Real Time Notifications
Real-time Consumer-facing Chat
Reporting/Analytics
Scheduled / Automated Reports
Tagging
Third Party Integrations
Transfers/Routing
Virtual Assistant
Website Visitor Tracking
Widgets
Workflow Management
Tidio Plans & Pricing in 2022
Available on: Free, Free Trial, Subscription
Starting Price:

$18.00/month



Pricing Module:


Tidio has four pricing options






Free


Chatbots  – $180 per month (annual billing) or $18 per month (monthly billing)


Communicator  – $180 per month (annual billing) or $18 per month (monthly billing)


Mailing  – $100 per month (annual billing) or $10 per month (monthly billing)





Trial Days:

7
Alternatives of Tidio
Tidio Reviews
Likelihood to Recommend
10/10
---
Kala SIDHU
2022-02-04 11:33:50
Rating breakdown
Likelihood to Recommend
10/10
Best Live Chat Software To Get Leads
Tidio\'s user-friendly dashboard, responsive team, and high-quality service make them a great option for those looking to integrate chats into their website.
Pro
Tidio helps us to connect directly with our site visitors. It is 100% compatible with mobile browsers and Responsive Web Design technology.
Cons
The one thing I didn\'t like about Tidio was their monthly chatbot limit and pricing. They charge quite a bit due to which we were unable to use it for very long- they could lower the price though!
Frequently Asked Questions
Compare with Top Alternatives
Tidio
Collect.chat
Pricing

Starting from $18.00/month

Free:

Trail Days:

Free:

Free Trial:

One Time Licensing:

Subscription:

Starting from $24.00/month

Free:

Trail Days:

Free:

Free Trial:

One Time Licensing:

Subscription:

User Reviews

Likelihood to Recommend

10

No Review Yet!

Key Feature
Access Controls/Permissions
Activity Dashboard
Alerts / Escalation
Alerts/Notifications
Auto-Responders
Automated scheduling
CRM
Canned Responses
Chat/Messaging
Chatbot
Compare with all features