View Plans & Pricing
ConvertFlow Overview
With a focus on converting visitors into leads and then customers, ConvertFlow is here. Prepare customised launch forms, popups, questionnaires & landing pages: without any coding knowledge! Promote growth, lead generation & use tools for audience segmentation for better targeting. Drive sales, personalise & succeed. Using a mixture of the aforementioned, engage people, along with quizzes, site messages to guide them, sticky bar announcements & apply dynamic site content. Their reactive builder allows all of these to be created easily. Embed forms, create multilayered CTA funnels to collect more customer data, trigger automated emails to be sent & apply templates to streamline your workflow.
Gauge the customer's journey by analysing their purchase lifecycle & CRM data stats to formulate bespoke strategies to entice them. Define conditional paths using response-based outcome logical algorithms. Merge tags with text replacement to fulfill custom fields & contact data. Avoid duplication by unifying data capture, so never ask for the same info from a customer twice! Site placement targeting ensures that CTAs are positioned in the most effective location for maximal yield. Custom domains for landing pages & various integrations add icing to the evolving (delicious) cake. Team collaboration tools & community resources polish this product.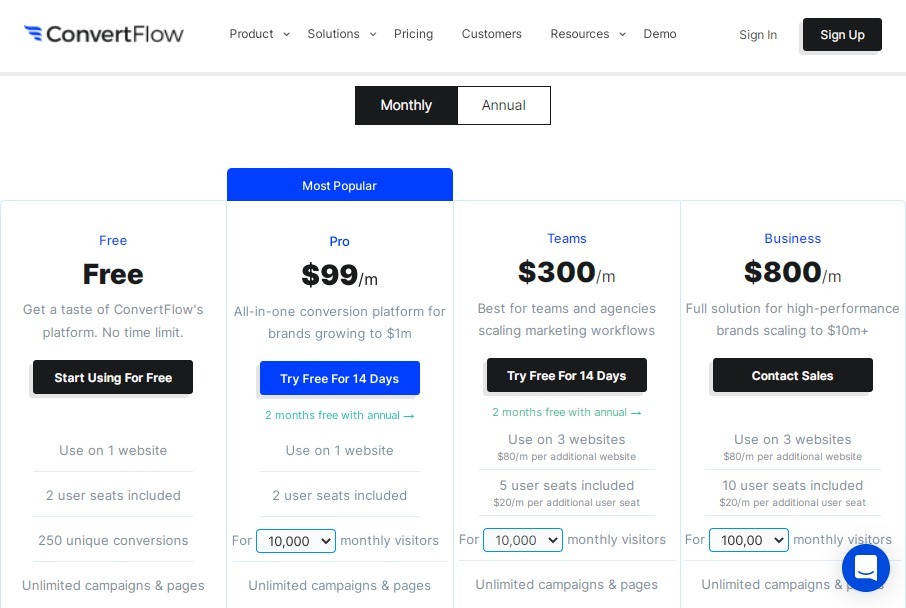 Unfortunately, users report that creating almost anything on this platform is glitchy, leading to many errors. This, along with regular server failures, creating time wastage isn't good. What's worse is that these issues appear to persist & remain unresolved, despite being reported as feedback to the support team. Therefore, would I buy ConvertFlow given these drawbacks? Probably not, as although they offer some nifty features, it's not so much the erratic software that concerns me. It's the fact that their service is inaccessible – and that's unacceptable…Disappointing guys!
I am a digital marketer and SEO content writer at Cloudfindr.
ConvertFlow Features
AB Testing
Abandoned Cart Saver
Account Based Marketing
Activity Dashboard
Alerts/Notifications
Behavioral Targeting
Campaign segmentation
ConvertFlow Plans & Pricing in 2023
Available on: Free
Starting Price:

  $49.00



Pricing Module:


Starting From: 

$49.00

/month



Trial Days:

14 days
ConvertFlow Reviews
Likelihood to Recommend
4/10
---
Kiran Kumar yen

Rating breakdown
Likelihood to Recommend
5/10
A Powerful Tool
ConvertFlow is an incredibly powerful tool for creating automated marketing campaigns. It's easy to use and offers a wealth of features to help you optimize your marketing efforts. Highly recommended!
Pro
Easy to use, lots of features
Cons
None so far


Notice: Undefined variable: rc in /opt/bitnami/apps/wordpress/htdocs/wp-content/themes/cldfndr/content-single-app.php on line 939

Notice: Undefined variable: reviewschema in /opt/bitnami/apps/wordpress/htdocs/wp-content/themes/cldfndr/content-single-app.php on line 968

---
Kiran

Rating breakdown
Likelihood to Recommend
3/10
Not Impressed with ConvertFlow
I recently tried ConvertFlow for my website and was not impressed with the results. The sign up process was overly complicated and I had trouble getting the forms to show up on my website. The customer support was not very helpful either. Even after spending a lot of time trying to get the forms to work, I was not able to get the desired result. The features are also limited and I found it difficult to customize the forms. I was disappointed with the overall experience and would not recommend ConvertFlow to anyone.
Pro
Cons
Complicated sign-up process, Limited features, Poor customer support


Notice: Undefined variable: rc in /opt/bitnami/apps/wordpress/htdocs/wp-content/themes/cldfndr/content-single-app.php on line 939

Compare with Top Alternatives
ConvertFlow
Notice: Undefined variable: aa in /opt/bitnami/apps/wordpress/htdocs/wp-content/themes/cldfndr/content-single-app.php on line 1042
colspan=2>
Notice: Undefined variable: cmptitle in /opt/bitnami/apps/wordpress/htdocs/wp-content/themes/cldfndr/content-single-app.php on line 1042

Notice: Undefined variable: aa in /opt/bitnami/apps/wordpress/htdocs/wp-content/themes/cldfndr/content-single-app.php on line 1043

Pricing

Starting from   $49.00

Free:

Trail Days:

Free:

Free Trial:

One Time Licensing:

Subscription:

Notice: Undefined variable: aa in /opt/bitnami/apps/wordpress/htdocs/wp-content/themes/cldfndr/content-single-app.php on line 1099
>

Starting from
Notice: Undefined variable: cmpid in /opt/bitnami/apps/wordpress/htdocs/wp-content/themes/cldfndr/content-single-app.php on line 1101


Free:

Trail Days:
Notice: Undefined variable: cmpid in /opt/bitnami/apps/wordpress/htdocs/wp-content/themes/cldfndr/content-single-app.php on line 1117



Notice: Undefined variable: cmpid in /opt/bitnami/apps/wordpress/htdocs/wp-content/themes/cldfndr/content-single-app.php on line 1137


Free:

Free Trial:

One Time Licensing:

Subscription:


Notice: Undefined variable: aa in /opt/bitnami/apps/wordpress/htdocs/wp-content/themes/cldfndr/content-single-app.php on line 1149

User Reviews
Notice: Undefined variable: aa in /opt/bitnami/apps/wordpress/htdocs/wp-content/themes/cldfndr/content-single-app.php on line 1388
3>Key Feature